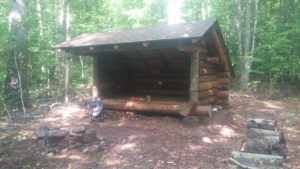 Installation of the West Stony Creek Lean-to within Shaker Mtn Wild Forest is now complete.
This newly constructed lean-to provides shelter along the recently re-routed segment of the Northville-Placid Trail. In 2015, apprx. 15 miles of new trail was built in an effort to improve the trail experience by reducing road walking by 7 miles. The West Stony Creek Lean-to is the first additional trail shelter installed along the rerouted segment and is the closest lean-to to the southern terminus of the Northville-Placid Trail.
The lean-to is located just north of the West Stony Creek crossing, 3.8 miles south of the Benson Road parking area and 4.9 miles north of the Collins-Gifford Valley Road parking area and 8.3 miles from the Northville Trailhead. Coordinates: N 43 Deg 13.477', W 074 Deg 16.160' The little spur trail is flagged and its signed with LEAN-TO-> sign.
Thank you to the State Police Aviation for transporting the materials and Lands & Forests, DEC Ops, and local Forest Rangers for building the new lean-to which is now open for public use.