We at the NPT Chapter are pleased to announce the new NPT stewardship patch program. The sheer length of the NPT, at roughly 135 miles give or take with reroutes, is a logistical nightmare to maintain. Although there are trail stewards who volunteer to help maintain the trail and are each assigned their own sections, it is nearly impossible to keep up with.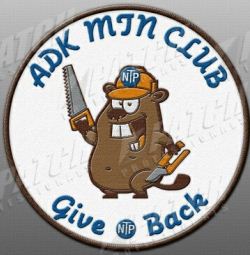 The NPT Chapter coordinates Stewardship hikes several times a year along the trail. Each outing will be along a different section of the trail and will usually be either a two- or three-day hike, depending on the remoteness of the section being worked on. However there are usually opportunities for day stewardship hikes. During stewardship hikes, we do basic trail maintenance and clean up. We also try to mix in some fun with a barbecue after the outing to say thank you for the help.
There are two ways to earn this patch. 1) Volunteer for one stewardship hike or 2) Make a $25 or more monetary donation that will go directly to the maintenance of the NPT. Click below for the printable patch form. Send it with filled out and if applicable monetary donation along with a self addressed stamped envelope.