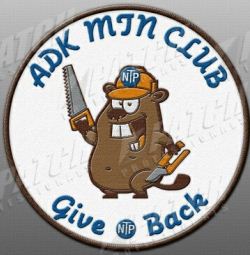 By Bill Celentano – NPT Stewardship Chair
We at the NPT Chapter are pleased to announce the new NPT stewardship patch program. The sheer length of the NPT, at roughly 135 miles give or take with reroutes, is a logistical nightmare to maintain. Although there are trail stewards who volunteer to help maintain the trail and are each assigned their own sections, it is nearly impossible to keep up with.
The NPT Chapter has identified this problem and assigned me as Chapter Chair to try to help with this daunting task. Along with the Outings Chair, we coordinate Stewardship hikes twice a year along the trail. Each outing will be along a different section of the trail and will usually be either a two- or three-day hike, depending on the remoteness of the section being worked on. During these stewardship hikes, we do basic trail maintenance and clean up. We also try to mix in some fun with a barbecue after the outing to say thank you for the help.
I then started thinking what else can we do to encourage people to come out and give back to the trail we all love so much. A PATCH! Everyone likes earning patches! This is when the idea of the NPT Stewardship patch came about. Join us on three Stewardship hikes and you earn the patch. Come on five Stewardship hikes to earn a five-time rocker patch. There is even a 10-time rocker you can earn.
The patch program and form needed to request your patch will be on our website soon. We have a stewardship hike coming up from Long Lake to Shattuck Clearing in October. This would be a good opportunity to start earning your patch. For more details on the upcoming Stewardship hike click here  or email me directly at nptstewardship@gmail.com.