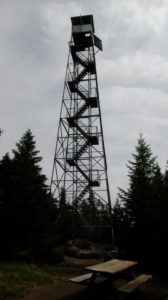 I recently got a chance after camping at Wakely Dam to take advantage of the newly reopened Wakely Mountain Fire Tower.  The tower was recently reopened after an extended closing on July 10, 2018, and I was intrigued as my few short seasons camping there the trail had been off-limits.  So after a hearty camp breakfast of donuts and granola bars, off I went.
My first surprise of the day was running into a pair I knew thru-hiking as I guiltily drove myself to the trailhead.  What fun to see friends unexpectedly halfway through such an experience.  They were in great spirits and I was able to send some good messages back "home" for them.  Feeling nostalgic for my own hiking adventures on the trail, I happily pulled into an empty trailhead save one other vehicle.  On a firetower trail on an early Saturday morning?  Lucky me!
The weather was great and I made nice time on the first two miles of the approx. three mile one-way trail to the tower.  The terrain rolled down an old logging road, over a couple small streambeds and through some nice glades and forests.  A nice warm up!  I met the other hikers at the junction sign to start hiking up the actual mountain.  They were relaxing on a large rock and waiting for their son and dog to finish a quick swim in the nearby pond.  After a quick chat, up I went to clear out the night's cobwebs for everyone.  The last mile was much more of a moderately steep hike, but not technical.  Near the top there was a wooden railing for an assist and a small ladder that were no trouble at all.  Next, one can see some small trails to the right that lead to an opened clearing with an extremely large wooden platform- I was told on the way down by chatting with another hiker that this was the helicopter platform from when materials were dropped off for the Tower work.  It had a beautiful view from the top of the structure and smelled strongly of sweet berries warming in the sun in the clearing.  Back out to the trail just a few hundred feet brings you to the tower itself.  There was a nice area to picnic with a table, firepit, and a privy.  The tower itself was constructed in 1916, replacing a wooden model built in 1911 and stands 70 feet tall.  It's also on the New York State and National Registers of Historic Places.  I had the summit to myself for the about 20 minute break I took, and was able to take my time going back down and chat with folks headed up.  It did get a bit busier by late morning, but not congested by any means.  All in all a great way to spend a half- day or more and see more around our amazing trail!