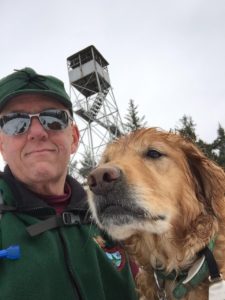 How long you've been leading outings for the NPT Chapter (since what year?)? 2015 (that's when I took the training, haven't led one yet)
Type of outing(s) you typically lead or what you lead most often (paddling, hiking, backpacking, skiing, cycling, etc.): When I lead it will be hiking, paddling, snowshoeing or xc skiing
Typical difficulty level of most of your outings: Up to B+
Favorite time of year to recreate: Fall
Favorite place/area to lead outings or where you tend to go most often (a specific area of the Adirondacks, Catskills, Green Mountains, etc.): Around Blue Mountain Lake as that is where I live. When I lead, it will be Blue, Castle Rock, Tupper Lake Triad, perhaps the Hamilton County Fire Tower Challenge, Lake Durant loop around Rock Pond, Cascade and Stephens.
Brief description of outdoor recreation-related experience, medical trainings, certifications, & related education: I have been going to the Adirondacks most of my life. I have always been outdoorsy. I hike, kayak, snowshoe, hunt, fish. I have a fairly broad knowledge of the history of the Adirondacks. I will be getting my first aid certification.
Any additional comments: I haven't camped since I was 14 or so and the only time I have been on the NPT is xc skiing through Lake Durant. I should hike from Blue to Long Lake. I became deconditioned and am working on getting back in shape before I lead a hike. I snowshoed Sawyer yesterday. I need to get my wind back, which I hope won't take long if I go most days I am also a member of the Cold River Chapter. I would like to paddle the NFCT, but not sure anyone could stand me that long.
More to come soon!